In the recent years, the rise of crypto or digital assets has significantly shaken the financial markets to become one of the most popular type of assets and leading to a new revolution in terms of investment strategies.
One of the main reason for this development is due to the decentralised nature of such assets which is really attractive to professionals investors.
This is further enhanced by the various advantages of the blockchain capabilities (transparency, fluid transactions, flexibility) as well as the variety in terms of financial instruments (tokens, crypto currencies, ect..) available for the managers and their investors to choose from.
As a matter of fact, any type of asset can be "tokenised" :
A security, (bonds, shares, funds, warrant, options, etc)

A currency, (or a cryptocurrency)

A movable asset, (car, plane, boat, etc)

An intellectual property right or even real estate.
Over the years, Luxembourg has become a leading jurisdiction when it comes to crypto assets due to the constant overview and various regulations from the CSSF (Fund regulator) with the intend to provide a clear visibility for the managers and facilitate the creation of dedicated structures for these type of assets.
The Special Limited Partnership (SLP) for instance can be considered as the optimal solution in regards to the setup of a crypto fund in Luxembourg due to its flexibility to accommodate any kind of crypto strategy including:
Furthermore, the manager of a SLP as registered AIFM (under 100 Mio EUR AUM) does not need to obtain a prior authorisation from the CSSF for the Crypto Fund strategy nor does he need to complete an application file for registration as a virtual asset service provider ("VASP"). The process is limited to a registration with the CSSF.
Thanks to the above, the SLP remains the best structure in terms of speed to market for crypto strategy with an average setup of a couple of weeks.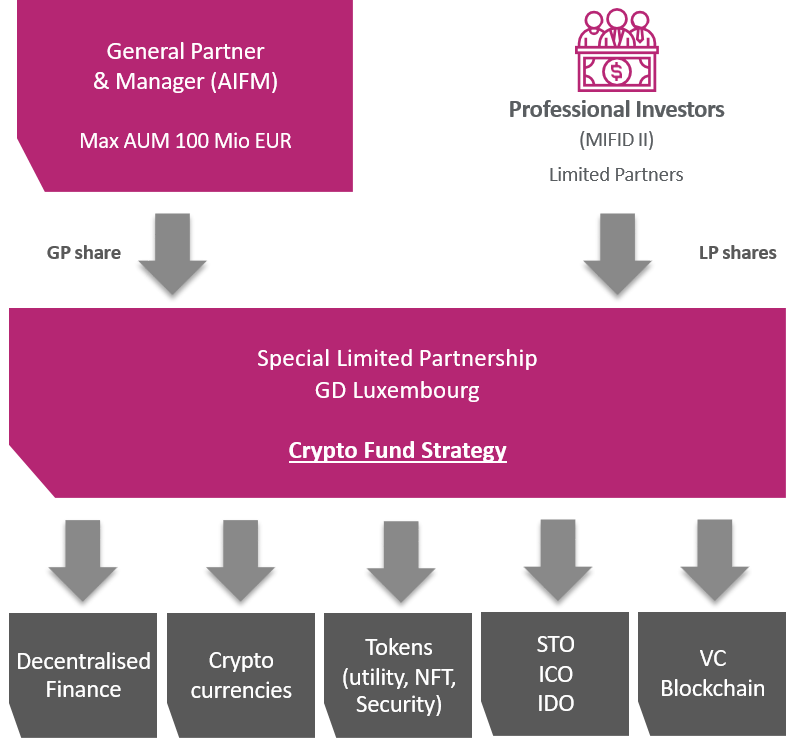 Security Token Offering Process
Creatrust services include:
Fund setup and incorporation

Structuring

Request of an ISIN number

Fund Administration services

N.A.V Calculation

AML/KYC and reporting

Access to our platform FundNav.lu
Read also: