The long/short crypto funds are the second most represented type crypto hedge funds currently in the market place, these types of funds combine a mix of long and short strategies.
This implies that it will take a long position on assets that are expected to increase in value overtime, and it also takes short position on assets that are expecting to decrease in value resulting ideally in making a twofold profit.
The different type of strategies within those type of funds includes:
Relative value: A manager performing this strategy will compare the value of different assets within the same asset category to identify potential pricing dissimilarities and therefore buy/sale opportunities.

Technical analysis: it involves the prediction of price movement by probing historical data, mainly price and volume.

Event driven: This strategy focuses on exploiting pricing inefficiencies that may occur before or after a company event, such as an acquisition, bankruptcy, merger, and more.

Crypto-centric: These type of strategies focus solely on the generation of digital assets, a good example would be "crypto mining"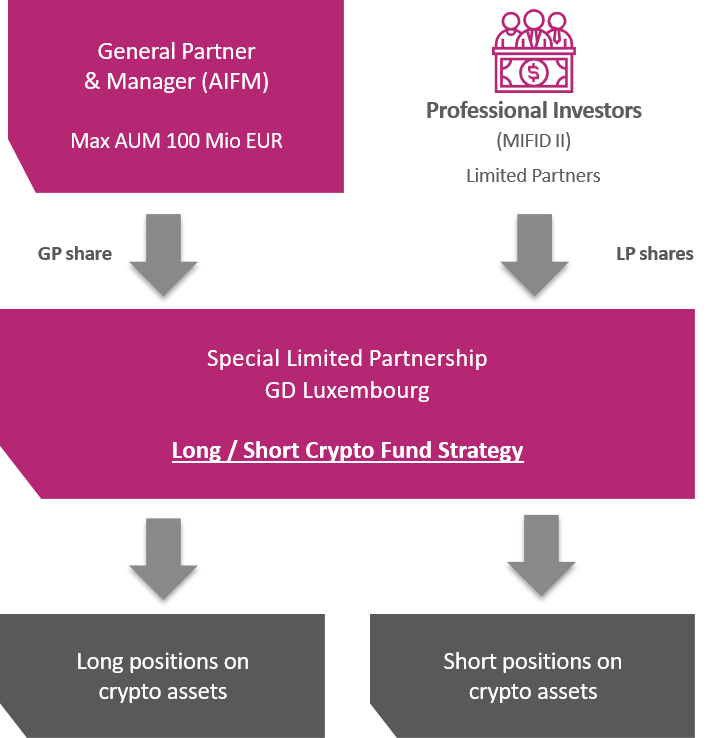 What are the benefits of using the Luxembourg Special Limited Partnership for Long / Short Crypto funds?
Creatrust services include:
Fund setup and incorporation

Structuring

Request of an ISIN number

Fund Administration services

N.A.V Calculation

AML/KYC and reporting

Access to our platform FundNav.lu
Read also: