The crypto quantitative funds are the most represented type of crypto hedge fund and are characterised by following a quantitative market approach either in a market neutral of direction way environment.
They mainly focus on liquid crypto assets while including the following mechanisms:
Arbitrage: this involves the simultaneous purchase and sale of assets in different markets to take advantage of small price differences

Low-latency trading: this involves the usage of algorithmic trading to respond to market events quicker than the competition and therefore increase trade profitability

Market-making: this involves the actively quoting of two-sided markets by providing bids and asks along with the market size of each and capitalising one the bid-ask spread
The main advantages of investing into this type of assets in comparison to a traditional hedge fund are generally a hedging against inflation due to the asset nature, portfolio diversification by including digital assets and lastly getting an access to a complementary value-creation ecosystem.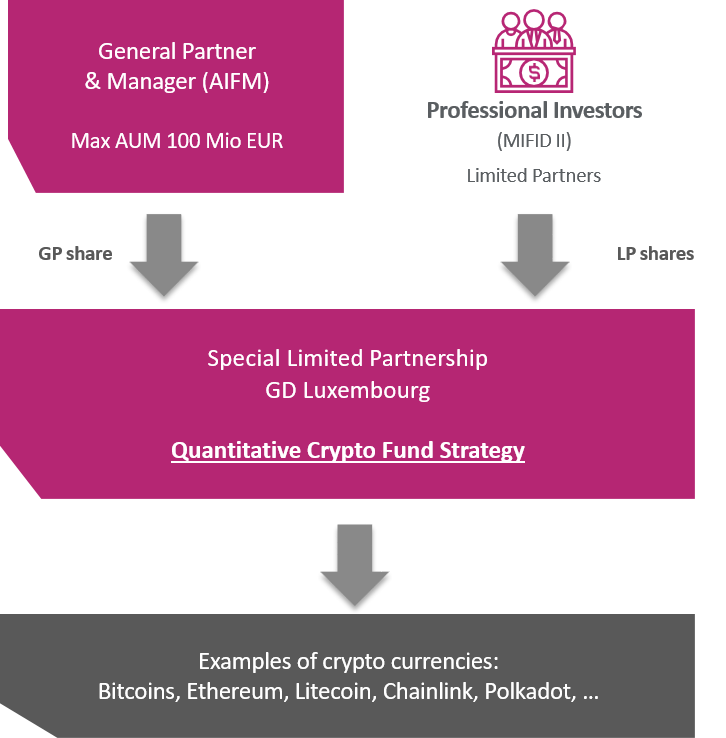 What are the benefits of using the Luxembourg Special Limited Partnership for quantitative funds?
Creatrust services include:
Fund setup and incorporation

Structuring

Request of an ISIN number

Fund Administration services

N.A.V Calculation

AML/KYC and reporting

Access to our platform FundNav.lu
Read also: