Private Clients, High Net Worth Individuals or Family Offices contact us for the full range of Family Office services we offer. Creatrust's Family Offices Services team provides clients with unbiased advice on how to organise and structure their wealth.
Our service encompasses: Family vision, Family structures and Family Office solutions.
Family Vision: It is common for families to make 'vision' and 'mission' statements and write down their values and beliefs. Family vision planning usually starts with analysing what matters most to the family, or the patriarch, and then identifying the legal and fiscal framework within which the family members operate in order to formulate a common future set of goals.

Family Structures: With a clear vision of what needs to be achieved, the necessary legal structures are put in place to protect, preserve, organise and develop the family's wealth. The right structure is essential in order to plan for succession and take into consideration the interests of the various members, their country of origin, residence and tax situation.

Family Office solutions: Creatrust can provide family members with daily reports on their wealth situation, their share in the family assets, and offer the ability to manage the complete family wealth from a central 'dashboard'. The dashboard is an essential tool for managing family assets in an otherwise complex environment.
Why Creatrust?
We are:
a true multi-family office which advices, measures, monitors and helps to manage and control family assets and wealth without conflicts of interest

expert and well-practised in the organisation of complete wealth or inheritance situations

able to efficiently utilise our expertise to set up the right structure to hold private assets, for HNWIs and for Family Offices

able to protect family assets and reduce overall cost wherever possible
Trust is in our name and is at the core of what we do. We offer an independent one-stop-shop for family offices which need robust, bespoke solutions backed by proven excellence in accounting, tax, legal and administration services.
To find out more about Creatrust you can request our brochure by clicking on the link on the right-hand side of this page.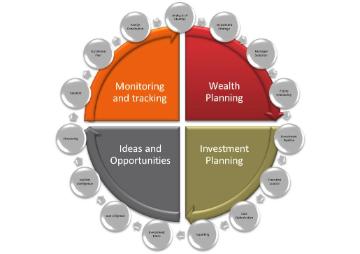 There are four pillars to Creatrust's Family Office services provision:
Family Offices and HNWIs will receive dedicated advice on how to structure their wealth e.g. company incorporation, holding entities, establishment of trust and foundation, Specialised Investment Funds (or equivalent structure or fund established abroad), insurance wrappers, dedicated structured products etc., taking into account the needs, organisation and tax situation of the family members.
Creatrust provides a solution to consolidate the assets wherever they are, in whatever form they are in, and independently of how they are maintained or administered. The Family Office will be able to monitor the total assets managed, the evolution of their wealth, the global return, the costs/fees paid to the various counterparties and related risks linked to the portfolio.
With the Wealth Protection Plan, the patriarch will insure the wealth and the assets he has built are in safe hands and will be transferred with no encumbrance to the next generation; without conflict of interest.
Income Reporting can become a burdensome task when you take into account the various legislations and jurisdiction of which the different family members depend. Our service helps in collecting and reporting the income stream to the various administrations.
Family Office's members may be advised to transfer their residence and redomicile in a country where they may elect nationality, domicile or residence. Creatrust will offer personalised assistance in the different steps of the redomiciliation process.
Once the decision to transfer the residence or domicile to Luxembourg (or to another appropriate country) is taken, Creatrust can offer:
Creatrust renders economic advice to the Family Offices encompassing their global investment objectives. Advice includes:
structuring the allocation among asset classes to match the Family Office objectives, including financial instrument, real estate, private equity, hedge funds, art works, securities and insurance policies
The Creatrust Family Office provides clients with a team of highly experienced and skilled finance professionals from Luxembourg and across the globe to effectively manage family assets. We act in a supervisory capacity to coordinate and monitor the execution of all mandates we are entrusted with. Your assets and wealth will be in safe hands.
The Family Office law of 21 December 2012 provides a regulatory framework for Family Office services in Luxembourg. This legislation provides clients with a "seal of quality", ensuring only a specially selected group of Luxembourg practitioners can offer the associated services; leaving you safe in the knowledge that they will comply with additional professional obligations when providing Family Office services.
Read also: