Art collections are securitised, in order to divide ownership and any consequent revenue between different parties while maintaining the art collection as a whole. By securitising an art collection, family members can each own part of the collection without dismantling it. They can also donate or sell their ownership to other family members, while enabling collection to remain intact.
In addition to owning part of the collection, the family members will receive the proceeds of any sale or lending activity, and, in proportion to their level of ownership, contribute to costs in respect of maintenance, upkeep and insurance. Hence securitisation has become an ideal and financially effective means to maintain a collection over generations.
Art as an investment
Securitisation can also be used to make an art collection available to outside investors. The originator bundles the amounts invested into a securitisation fund and uses the invested amount to buy and sell artwork. Investors are then able to benefit from the expertise of the originator in the art world and diversify their investment across a greater number of artworks.
How it works
The art collection can be transferred to or bought by the securitisation vehicle. The securitisation vehicle issues securities which can be subject to certain restrictions as laid down in the offering memorandum. Certain restrictions can be put in place, for example, the board may wish that securities are to be transferred only to family members, or perhaps, transfer to outside persons will only be made with full agreement from the family board.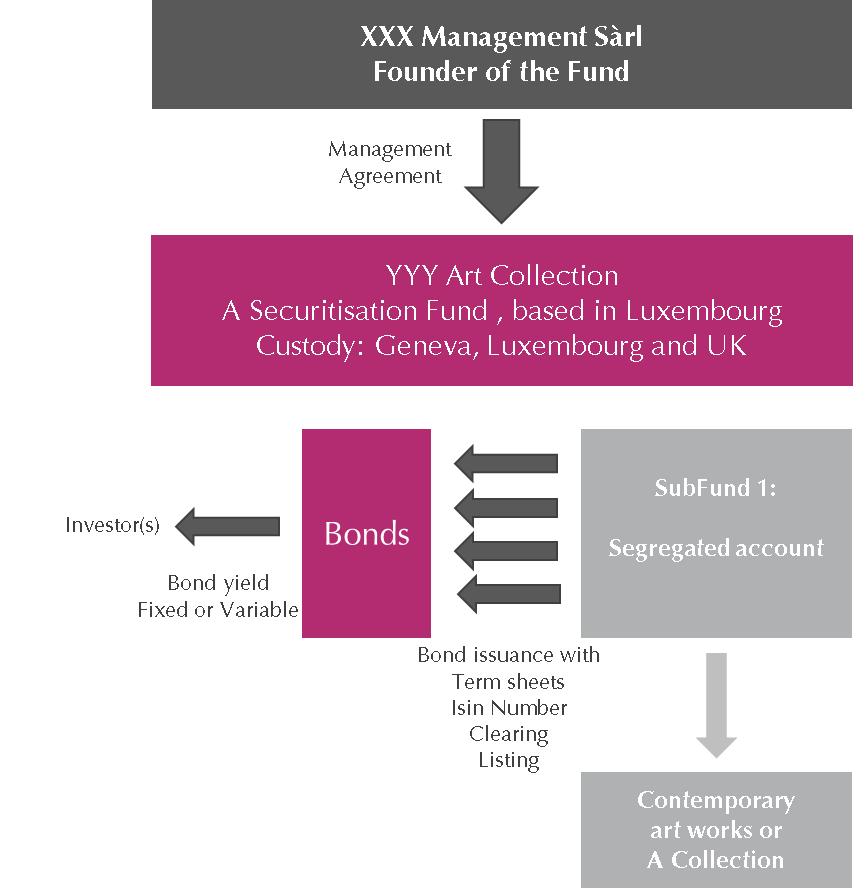 Selling the art collection to the securitisation fund
The art collection can be sold to the securitisation vehicle if one or several investors have liquidity which they wish to invest. In practice, the investors, in this case family members, buy the securities of the securitisation vehicle. The securitisation vehicle receives the payment and buys the artwork. As the artwork is bought, there is payment of the purchase price to the current owners. This solution is particularly attractive if the current owners wish to receive the cash and if the cash is paid to more than one owner. This solution is also attractive if the investor(s) wish to exchange their current liquidity for ownership certificates.
Transferring art to the securitisation fund
Transfer of artworks to the fund in exchange for certificates can be organised if no cash transaction is required or desired. This is often the case in smaller family structures. As the current owner receives the certificates, these can then be handed over to the other family members immediately or over time.
Read also: