This type of crypto fund will focus solely on Non-Fungible Tokens (NFT) which are non-interchangeable tokens created on a Blockchain network and that can be obtained and disposed through virtual NFT marketplace.
The NFT market has been a growing environment for the last two years where many artists, content creators and brands have started to express themselves and produce these type of assets to switch from the traditional marketing road.
These type of assets are been used to enhance the marketing strategy of the different stakeholders through various medium such as email, SEO, social media , paid advertising and more.
Many artists have also started producing them in order to sell the intellectual property rights directly linked to the NFT and received royalties from the contracts with the brand, network or institution using them.
Alternatively, painters or other tangible artists have also switch from the traditional process to produce digital art pieces which are being directly sold on specific NFT marketplace, the investors buying a NFT (or piece) will become the sole owner.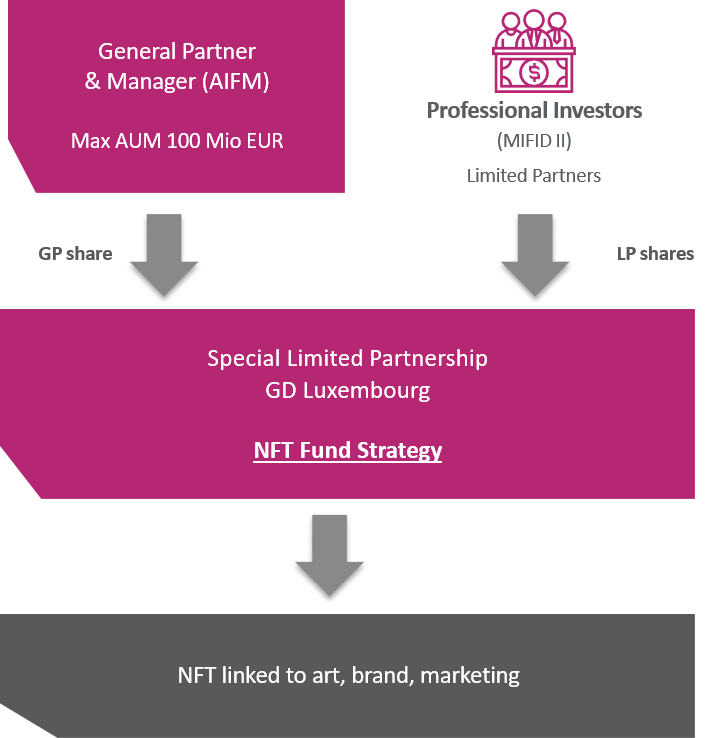 What are the benefits of using the Luxembourg Special Limited Partnership for NFT Funds?
Creatrust services include:
Fund setup and incorporation

Structuring

Request of an ISIN number

Fund Administration services

N.A.V Calculation

AML/KYC and reporting

Access to our platform FundNav.lu
Read also: