Crypto assets are nowadays commonly used by an investor, a trust, a family or a promoter in their asset allocation. While these assets are part of the universe of investments they may be circumstances where investors wishes to a 'classic' debt security rather than holding the crypto assets in direct.


Types of assets linked with the Crypto Notes can be:
Crypto currencies (BTC, ETH, SOL, etc)
ICOs / STOs
Shares/Stock into a crypto related project
Staking / Receivables
Security Tokens
Governance Tokens
An index, a basket of underlying Crypto assets
Utility Tokens
Non Fungible Tokens
Investment into a blackchain project/company
Any other Crypto assets/tokens issued or not on the blockchain (Distributed Ledger Technology)
Commodities Token: gold, silver, ect…
Structured product linked with Crypto Assets
a land, real estate, on the METAVERSE
Functioning:
The Securitisation Undertaking will acquire the risk or the rights on the Crypto Assets which will become the "crypto underlying asset". The Securitisation Undertaking will then issue one or different Crypto Notes or Crypto securities which have a yield or a value directly linked with the crypto underlying assets.
Investors:
The Securitisation Undertaking may issue securities of different type among which:
Units : Equivalent to a share in the equity of the Securitisation Undertaking, it gives right to the dividend distributed and to the proceed of liquidation
Certificates: Directly linked to the underlying asset (zero coupon)
Bonds: Debt instrument issued by the undertaking with a fixed or variable coupon which may be redeemable periodically or at the end of the securitisation process (from a month to several decades).
Token : another security tokens linked with the Crypto Note issued on the blockchain (Distributed Ledger Technology)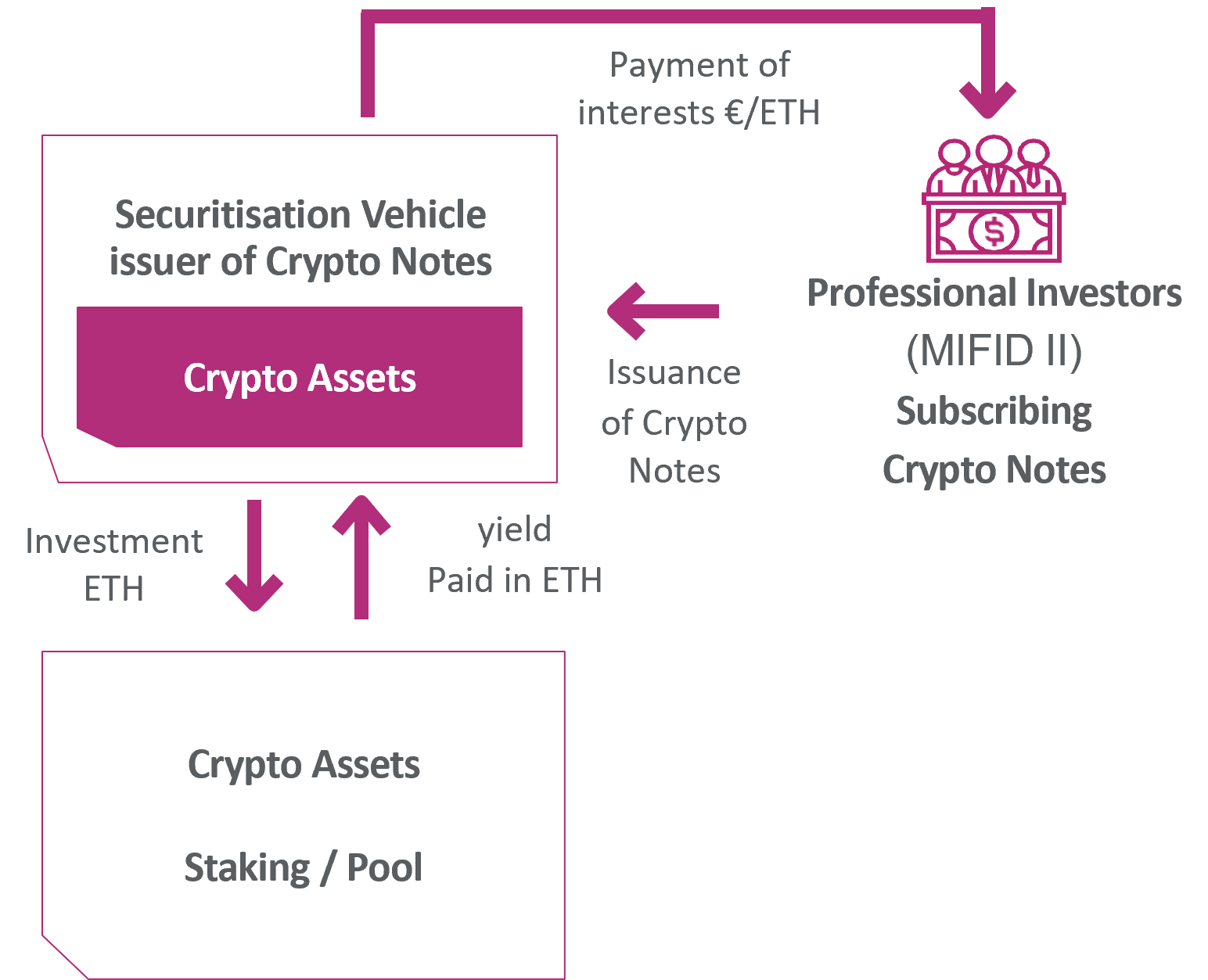 Creatrust services include:
SPV setup and incorporation

Structuring

SPV Administration services

N.A.V Calculation

AML/KYC and reporting

Access to our platform FundNav.lu
Read also: