Creatrust advises Investment Managers or Promoters on the structure of investment portfolios so as to make them accessible to as wide an audience as possible. We offer guidance on a range of solutions for Investment Managers, Mutual Fund Promoters, Originators and Family Offices:
Project Financing: A great idea or important project often requires finance from outside. We help Investment Managers and Investment Fund Promoters package their investment propositions effectively. By issuing the right debt or equity instruments, Investors can participate in various investment rounds of private equity and venture capital.

Venture Capital and Private Equity: A range of projects can be pooled in an investment fund to provide investors with opportunities to benefit from the potential returns. Creatrust assists managers in structuring the Special Purpose Vehicle (SPV) most appropriate to their needs.

Investment Portfolios: Whether as a private placement or a public fund, Creatrust develops fund vehicles for Investment Managers in order to provide Investors with access to portfolio management skills.

Securitisation of Assets : Originators seek our advice on how to structure the transfer of assets to a Securitisation vehicle by issuing securities (equity or notes), the value and yield of which are linked to these underlying assets.

Co-ownership : Partnerships, regulated or unregulated, are often used by co-investors to pool efforts and enable participation in investments.
Independence, trust and in-house expertise - the Creatrust mainstay
Our overarching philosophy is to act in the interest of our clients and to establish our working relationships on trust. We are:
backed by in-house expertise with a proven track record in the set up of the right structure for promoters and institutional investors, both in a regulated and unregulated environment

innovating state-of-the-art technology for investment fund administration

proud of our relationships with our clients and associates, all of which have been built on an ethos of open communication

independent from banks and financial institutions
To find out more about Creatrust's balanced brand of services for fund managers and promoters, please click on the button on the right-hand side of this page to request a brochure
Creatrust acts as a one-stop-shop to provide Investment Managers and Promoters with the optimal solution. The service includes initial advice on the various options available; taking the approach that the level of regulation should be adapted to the real investors' needs and their ability to commit under a particular regulated or unregulated framework. Creatrust also implements the chosen solution by interacting with outside service providers such as custodian banks, prime brokers and external auditors. We organise the on-going management of income flows and domiciliation of the chosen investment fund structure.
Creatrust also provides a platform to allow investment managers to communicate with their investors.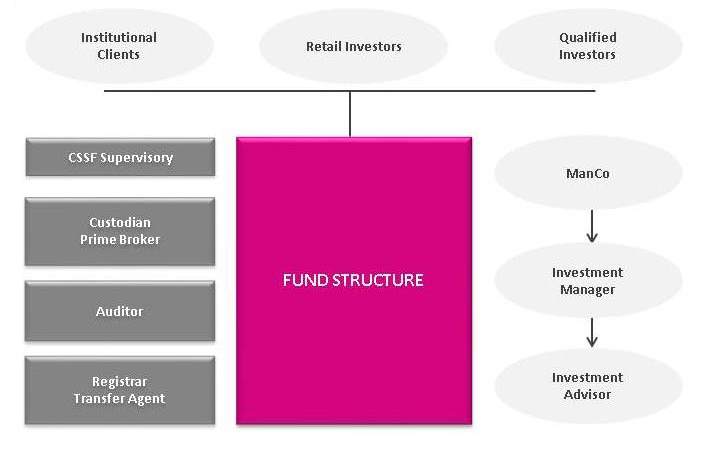 Different Types of Funds
Luxembourg Funds can be set up as regulated and unregulated vehicles. For regulated vehicles we distinguish between funds targeting the wider public and funds for a restricted group of investors under private placement. Regulatory oversight is performed by the CSSF, the financial regulation authority in Luxembourg.
Undertakings for Collective Investment in Transferable Securities

- UCITS - is derived from European Directive 2009/65/EC dated 13 July 2009. UCITS provides a single regulatory regime across the European Union for open-ended funds investing in transferable securities such as shares and bonds. It aims to define and maintain high levels of protection for investors. The Directive regulates the organisation, management and overseeing of such funds, and imposes rules concerning diversification, liquidity and use of leverage. It was implemented into national law by Part 1 of the Luxembourg Law of 17 December 2010 relating to undertakings for collective investment.


Regulated vehicles:
UCITS fund: Part I for public distribution
UCITS fund: Part II for private placement
Other funds also called Specialised Funds for private placement are:
Unregulated special purpose vehicles are:
SOPARFI – Holding Company

SPF – Wealth Management Company
In Luxembourg, a UCITS may take three different legal forms:
Contractual Fund (FCP)

Investment Company with Variable Capital (SICAV)

Investment Company with Fixed Capital (SICAF)
Funds in Luxembourg are often set-up as a SICAV, an Investment Company with Variable Capital, or a FCP which is a contractual agreement between the investors and a management company established in Luxembourg.
UCITS can be set-up as a single fund or as an umbrella fund consisting of multiple compartments, each with a different investment policy. The fund and its compartments, respectively, may have an unlimited number of share classes, depending on the needs of the investors. Under certain conditions, cross-investments between sub-funds are allowed.
A UCITS will be allowed to market its units in a target host Member State as soon as its home regulator confirms that it has submitted a complete notification file (standardised in form and content) to the host regulator within a maximum of 10 working days. However, this simplified notification procedure will not be applicable outside Europe.
The Specialised Investment Fund (SIF) is very popular. They are regulated by the CSSF (Commission de Surveillance du Secteur Financier) and can consist of any type of asset assuming a certain risk-spreading rule is respected.
SICAR may also invest into private equity deals.
Read also: