The SOPARFI (Société de Participations Financières) is an interesting vehicle for holding shares of local and foreign companies, participations or other businesses. The SOPARFI can also provide services or obtain a business license like any other commercial company. It is a non-regulated entity.

The SOPARFI may be used to:
hold participations in listed and unlisted (private) Equity

finance other entities

hold real estate in Luxembourg or abroad, directly or through a company

hold financial assets (financial instruments, shares, bonds, derivatives, etc.)

own intellectual property rights to perceive royalties

exercise management control over other entities

issue any type of debt to finance its activities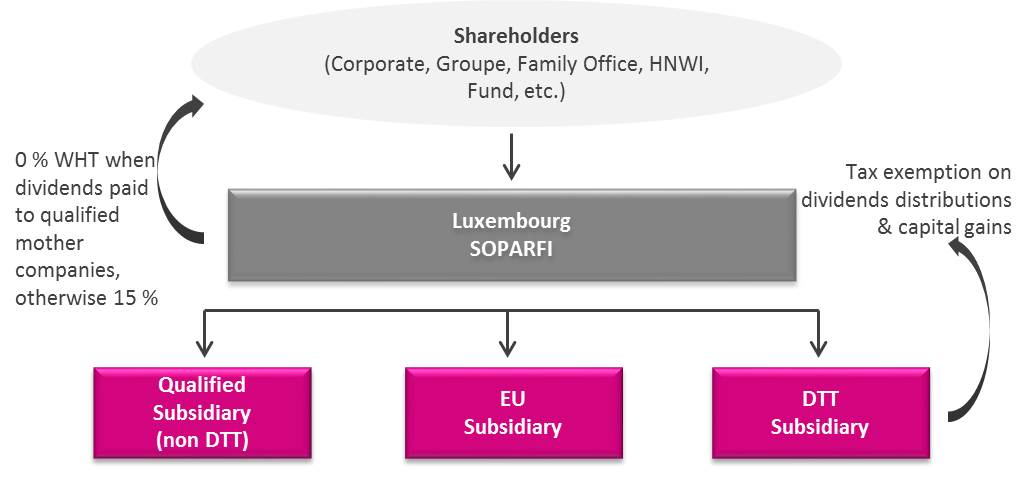 SOPARFI advice with Creatrust
It is no accident that Luxembourg is one of the world's five wealthiest countries (based on per capita GDP). This is because although the Grand Duchy is one of the smallest countries in the world, it was one of the first six members of the EU and has a highly developed economy that draws on innovative banking, financial and legal sectors.
As a leader in its field, Creatrust is ideally placed to help you take full advantage of Luxembourg legislation and the various EU Directives that make Luxembourg's SOPARFI (Sociétés de Participation Financière) holding companies such an attractive option to the savvy investor.
Creatrust, for confidence founded on trust, communication and professional experience.
To speak to a member of our team of experts please call our offices on +352 277 299 99 or request a free proposal by filling in our online contact form.
Eligible Assets in a SOPARFI

Equity/Liabilities issued by a SOPARFI

Read also: